The featured bird for May is the Blue-Crowned Parakeet.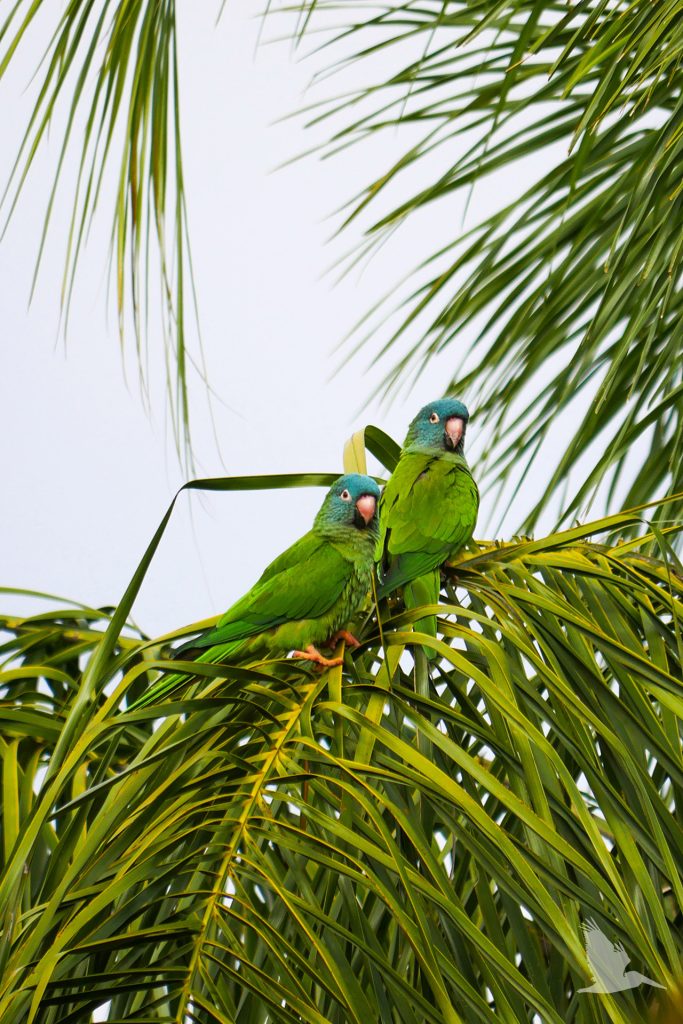 The Blue-Crowned Parakeet or Blue-Crowned Conure or Sharp-Tailed Conure is not a native Florida bird. It's a long-tailed Neotropical parrot native to South America. However, St. Petersburg and Ft. Lauderdale have a significant population of Blue-Crowned Parakeets living in the wild. It's assumed they're offspring from escaped pets and zoo animals.
Family: Phoenicopteridae
Species: Thectocercus acuticaudatus
Length: 37 cm (14.5 in)
Weight: 140 and 190 g (4.9 and 6.7 oz)
Parakeets are parrots, they're just a smaller subset. Just like tortoises are also a kind of turtle (but turtles aren't tortoises).
If you have a bird feeder in St. Pete, there's a good chance you'll see blue-crowned parakeets and the black-crowned nanday compete with the blue jays, doves, grackles, cardinals, finches, sparrow, woodpeckers.
Want to attractive parrots and other wild birds to your yard: plant a native wax myrtle.
This photo was taken in St. Pete's Historic Kenwood neighborhood – on a palm tree next to a wax myrtle, popular food source for the blue-crowned parakeet.
2022 St. PetersBird Calendar
The original! Luxurious press-printed monthly poster calendar featuring 13 bird photos by Luci Westphal.